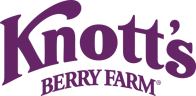 Knott's Berry Farm
Located in the heart of Southern California's Orange County, Knott's Berry Farm is an iconic California theme park featuring dozens of rides, shows and attractions in five themed areas. What began as a working berry farm has grown to become one of the most popular theme parks in the world. The Old West Ghost Town is the heart of the park where bandits are always looking for trouble. Camp Snoopy is home to Snoopy and the PEANUTS gang. Now open, the all-new Voyage to the Iron Reef, a spectacular new interactive 4-D attraction on which riders compete to blast menacing sea creatures and save Knott's from a watery doom. Enjoy!

NEW for 2018! This summer Knott's Berry Farm will welcome HangTime, the first and only dive coaster in California. The new coaster will tower 150 feet over the Boardwalk area, showcasing five gravity-defying inversions, mid-air suspensions and a beyond vertical drop- the steepest in California.

May 26th – September 3rd!
Hitting the streets of Calico returns our interactive summer event Ghost Town Alive! Experience the old west town in a whole new way during Ghost Town Alive. Travel back in time to the boomtown of Calico and meet the lively town folk. Participate in daily activities and shape the events that unfold, like pledging one's allegiance to notorious bandits or saving the day alongside courageous cowboys!
Connect with Knotts Berry Farm
The Following Apps are Available